Downhole Testing
We incorporate several key features in our testing units. First, a hydraulic motor drives a Triplex Pump that can pump up to 22 gpm and pressurizes up to 15k PSI. The result is an extremely fast system with minimal wear and tear. Next, we manufacture a pressure release valve that is made specifically for hydrostatic testing. The PRV will last years in the field without having to replace, grease or change orings in it. Next, a custom winch assembly with a spline shaft (no set screws to come loose or chain coupling to break) combines speed with the torque necessary to raise the tool to the next stand. We also use a disc break (no break band to constantly adjust or replace) to hold the tool and 100% maintenance free. Finally, a unique tandem hydraulic pump delivers the required power and flow to each component as needed. This hydrostatic testing unit the simplest, most efficient and almost maintenance free in the industry. Speed and reliability make this design the leader in hydrostatic testing.
Ergonomics are very important to equipment operators in any field. This design truly puts the operator in the driver's seat. Controls and gauges are installed inside the cab for comfort and convenience. The front mounted winch, a specially designed sunroof and a high definition front mounted camera allow the operator to see your winch line spool up and have a perfect view of the wellhead.
Rack Testing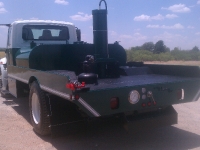 Mathews Machine uses a system of quick connect handles and "man-saver" valves to test pipe quickly and reduce costly downtime. Another noteworthy feature is our specially designed Matpump. This gear pump allows the operator to fill the pipe with water, test to the desired pressure, and then pull the water out of the pipe for use on the next test. We believe that this is the best method for rack testing available.
As important as the equipment is to our business, it is the people of Mathews Machine and Hydraulic that set us apart. We look forward to working hard for you.
Combination Unit
no images were found
To meet the needs of our customers we manufacture a combination unit that will test tubing on the rack or tubing in the hole.  This unit has controls inside the cab (for downhole testing) and controls on the tailgate (for rack testing).
Skid Unit
For the companies that do not have the need of Mobile units we offer a skid and a trailer mounted unit. These diesel or electric motor units are built to customer needs and still test in the hole or on the rack.